PREPARED FOODS
Fresh Salmon Burgers

Freshly Made Salmon Burgers, 3-4oz Great-Tasting Patties per Pack.
DAIRY
Butter, Unsalted, Grade AA

Unsalted Butter, Grade AA,1 lb unit - Perfect for all Your Recipes, Cooking or Simply Spreading on Bread.

Large White Eggs, 1 Dozen

Dozen of Large Eggs, Perfect for Any Recipe and Breakfast, A Great Way to Start the Day! Pair with Kurobuta Bacon.
OTHER ITEMS
Wasbi Grater

Wasabi Grater - Create your homemade sushi with freshly grated wasabi!

Smoked Whitefish Salad

Smoked Whitefish Salad, 7oz

Nova Smoked Salmon

Nova Smoked Salmon, 8oz Pack

Imported, Dry Pasta

Italian, Dry Pasta - 1 lb unit, Tasty and Delicious, Perfect Pairing with Any Seafood  Proteins.

Portuguese Tuna in Olive Oil

Portuguese Tuna in Olive Oil, 385g size

Aunt Connies Chopped Ocean Clams

Aunt Connies Chopped Ocean Clams - Perfect over Pasta's, Pizzas, Stuffings and more. 51oz, (3lbs, 3oz).

St. Ines Extra Virgin Olive Oil, 5 L

St. Ines Extra Virgin Olive Oil, from Spain. Taste the Difference! Perfect for Every Dish and Salad.
Aunt Connies Famous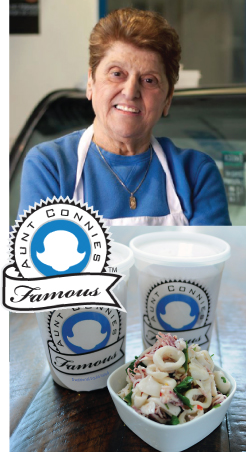 Aunt Connie and our family has been innovating unique and delicious seafood creations for over 85 years. Through dedication to only using the finest ingredients, and knowledge that only comes from experience, Aunt Connies Famous product line has grown to over 60 premium options!
Classic items such as Sammy Brown's Broccoli Slaw, Crab Corn Salad, and Potato Salad enhance any meal as a truly amazing side. Aunt Connies Famous Crab Cakes made with premium Crabmeat, and Fish Cakes made with flaky Cod are the perfect base for incredible sandwiches and entrees, as well as Aunt Connies fresh Salmon burgers when topped with Aunt Connies Cole Slaw make for an amazing sandwich.
Aunt Connies Famous Garlic Shrimp Salad is great as a first-course dish or warmed and tossed with pasta, her Mediterranean Seafood Salad is delicious as an appetizer served on a bed of leafy greens, and her savory Pulpo Salad is a sensational starter served warm or cold. If you're looking for an exceptional dipping sauce or seafood topper, Aunt Connies Famous Cocktail and Tartar sauce are the ideal complement for everything from Fish 'n' Chips to fried Shrimp and will take all dishes to the next level. Aunt Connies Famous Pineapple Salsa is also the perfect match on top of fresh grilled Mahi Mahi.
All of Aunt Connies items are made with natural ingredients that will enhance your catering menu and will amaze guests. Not all items are made daily, please call to see what is on the menu today.