About Ippolito's & Giuseppe's Seafood
Ippolito's Seafood was conceived in 1919 when Giuseppe Ippolito first stepped foot on American Soil. Wanting to mix the traditions of his fore-fathers with a touch of the 'American Dream', he started with a seafood push cart. He was inspired to open his own establishment where customers could get the freshest fish at affordable prices and superior service. In ten years' time, he saved enough money to turn his dream into reality.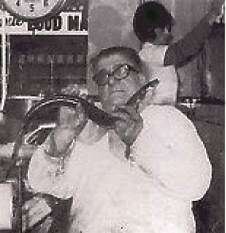 Ippolito's Seafood opened its doors for the first time in 1929. Today, Ippolito's has come to be called a landmark Philadelphia institution because we are still committed to providing Giuseppe's original mission to ensure high quality, top priority service at the lowest prices. The next generation of the Ippolito family is ready to take Ippolito's Seafood into tomorrow. Like the generation before us, we will continue to strive for excellence.
Our Market
Our Fresh Market is Philadelphia's oldest seafood shop established in 1929. We specialize in the highest QUALITY fish and seafood available. We source products from six of the seven continents, striving to bring the most exotic products but also stress the importance of local catch. We want our customers to experience the best our oceans have to offer, so we butcher all products in house. We receive shipments daily; and focus on the seasons to dictate the freshest products available. Our staff is very knowledgeable. They are educated by the industry's experts, through various training programs at our wholesale facility, Samuels Seafood.
Over the years we expanded our line to incorporate fresh produce and groceries as well. We now stock over thirty fruits and vegetables, both conventional and organic. We also carry other complementary ingredients to make us a true one stop shop.
Our passion is fish. We have at least one hundred varieties of seafood in house. We offer both wild and farmed salmon to multiple species of flounder. One any given day, you can find Clams from all over the world to over six different oysters. If you should have a particular request, we do our best to get it for you. We clean, season and prepare your items if you find yourself short on time!
Just give us a call @ (215) 389-8906 for more information.